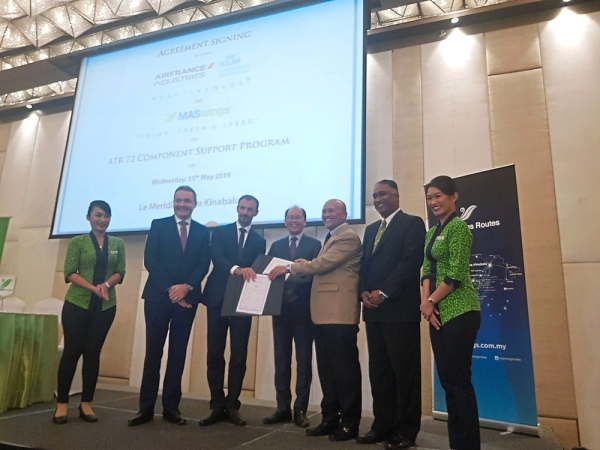 KOTA KINABALU: An aerospace training centre in Kota Kinabalu Industrial Park (KKIP) is expected to commence its operation by May next year.
The first intake would involve 200 students with a year training in campus, and afterwards practical trainings with airlines and maintenance, repair and overhaul (MRO) companies for a few years.
Sabah Trade and Industry Minister Datuk Seri Madius Tangau revealed this latest development after witnessing a signing ceremony between regional carrier MASwings and an international MRO company.
"We (state government) have a subsidiary company in KKIP and the main point is to provide training to youths to become certified engineers and technicians.
"The building plan for the centre is done. We are awaiting approval and going through procedure with the Tuaran district council, as the responsible local authority. The funding will come from federal government," he said.
Madius has previously announced the formation of such centre, which is expected to help Sabah grow its aerospace industry and strengthen Kota Kinabalu as a regional aviation hub.
Meanwhile, the event saw MASwings and Air France Industries KLM Engineering and Maintenance (AFI-KLM E & M) inking a document which will enhance the reliability record of MASwings aircraft even further.
The five-year agreement until May 7, 2024 will see the regional aircraft's fleet of 10 ATR72s undergo maintenance at the Singapore-based service centre and component solutions shop.
MASwings chief executive officer Aminuddin Zakaria, who signed on behalf of the company, said AFI-KLM E&M is not new to the Malaysia Airlines Group as it has already proven its ability with MAS B737 and A380.
"Through this effort, MASwings will always get the latest standard component as all the repairs and modifications will be undertaken solely by AFI-KLM as a one stop centre," Aminuddin said.
On another note, he said the government has imposed key performance indicators (KPIs) for MASwings under the new Public Service Obligation agreement for rural air services effective this year until end 2024.
The KPIs include On Time Performance where an aircraft is expected to depart within 15 minutes of scheduled time.
Source : The Star
Published on: Friday, 17 May 2019
By: KRISTY INUS