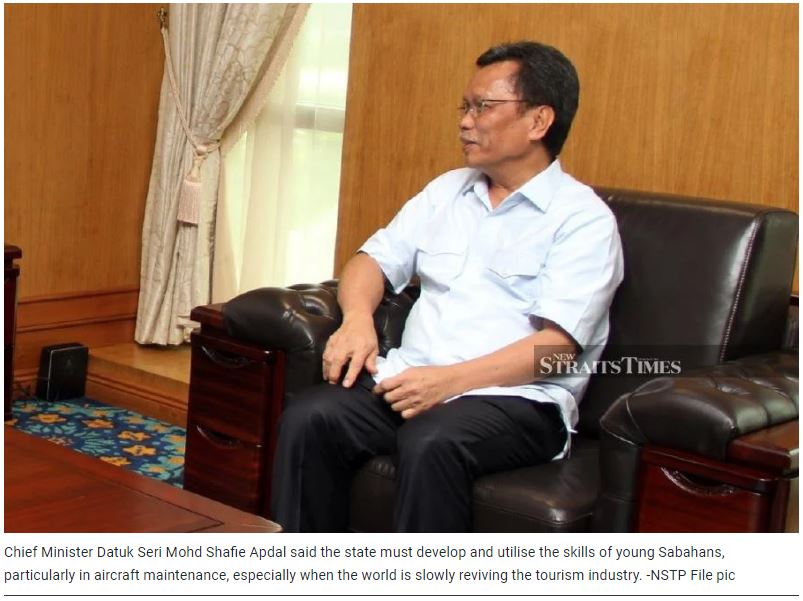 KOTA KINABALU: Sabah is set to produce skilled manpower in the nation's aviation industry as the Kota Kinabalu Industrial Park (KKIP) Aerospace Training Centre collaborates with big companies on aircraft maintenance training and anchor vendor initiatives.
The companies are MASwings Sdn Bhd, Layang-Layang Aerospace, Mega Aerospace Sdn Bhd and CAAC Malaysia Sdn Bhd for on-the-job training; as well as Bataras Sdn Bhd and the Department of Industrial Research and Development for anchor-vendor development programmes.
Located within KKIP, about 30 minutes from the state capital, the training centre is expected to secure a significant share of revenue from the aerospace industry by developing skilled manpower, providing Sabah an opportunity to tap into the high value-added industry.
Chief Minister Datuk Seri Mohd Shafie Apdal said the state must develop and utilise the skills of young Sabahans, particularly in aircraft maintenance, especially when the world is slowly reviving the tourism industry following the Covid-19 pandemic.
"I'm made to understand that five years ago, the United Nations indicated that the tourism industry would be up to the magnitude of US$3 trillion, but unfortunately, it subsided due to Covid-19," he told reporters after the signing ceremony between the companies at the Training Centre, today.
"However, I am quite sure things will recover fast, and so will the aviation industry. When tourism is mobilised, more aircraft will be used and maintenance work will surely increase.
"So, we need to train our young people and disseminate the right knowledge because the hub is here. In those early days, we had aircraft that couldn't fly and we had to wait for replacement (of aircraft and parts) from Kuala Lumpur.
"If we have proper maintenance here, we don't have to wait as repair work can be done (at KKIP). We must utilise our people and local engineers," he added.
Also present were Deputy Chief Minister cum state Trade and Industry Minister Datuk Seri Wilfred Madius Tangau; Deputy Chief Minister cum state Tourism, Culture, and Environment Minister Datuk Christina Liew; KKIP Sdn Bhd chief executive officer Datuk Melvin Disimond; and KKIP Aerospace Sdn Bhd chairman Dr Oh Ei Sun.
KKIP Aerospace is a wholly owned subsidiary of KKIP Sdn Bhd. Its joint venture partner in the development of an aviation and maintenance training centre is Lembaran Asia Sdn Bhd.
The training centre has opened registration for its September intake. It will be the first in Malaysia to offer dual licensing from the Civil Aviation Authority of Malaysia (CAAM) and the European Aviation Safety Agency (EASA) Part-66 of Category A1 Aircraft Maintenance Technician.
Madius, in his speech earlier, noted that dual-licensing would enable graduates to not only work within the local aerospace industry, but also internationally.
"I also understand that this is going to be the first approved aircraft maintenance training centre in Malaysia that has dual approval from CAAM and EASA Part 147 to conduct Category A1 Aircraft Maintenance Technician training.
"The graduates of KKIP Aerospace Training Centre will be equipped with comprehensive skills, spaced out into 12 modules.
"Among others, training will commence in the areas of avionics, engine, body and composite works both in theory as well as on-the-job-training in this hangar building and also hangars of collaborating MROs (maintenance and repair organisations)," he said.
Earlier, Shafie toured the Sabah Creative Economy and Innovation Centre; and the proposed site for the construction of a glass factory.
Source:
New Straits Times
By Avila Geraldine - July 10, 2020 @ 3:16pm